COMMERCIAL GUTTER GUARD PROTECTION
Excellence: It's Our Trademark.
Working with established trades and companies is a large part of our business.
The Leaf Man regards this not only as a compliment to our product and services, but also as a great responsibility.
We realise that the success of another's business or company is partially reliant on the success of our own.
In light of this we have adopted the policies below, to strive for excellence in all areas of our business..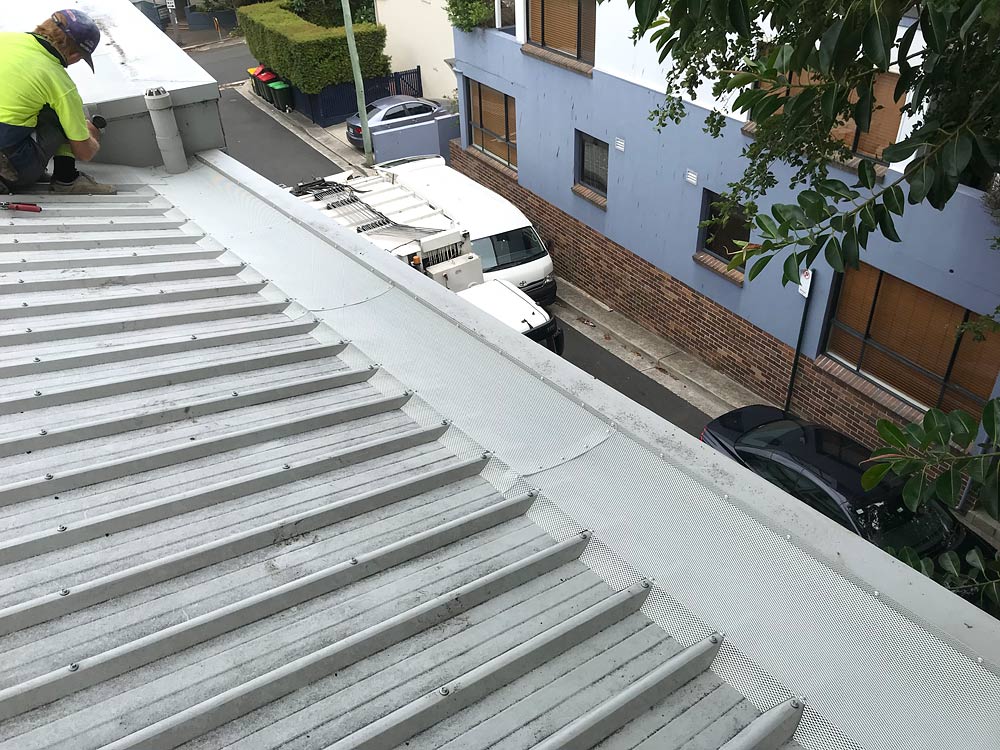 To ensure that both the supply and installation of our product is befitting of our standard of excellence. the managers of The Leaf Man personally oversees Quality Control.
From the first turn of the expanding machine, through to the cutting and powder-coating lines and finally to dispatch, having all these processes under one roof ensures that all divisions meet our stringent standards.
When it comes to installation, we do not cut corners and will take the time required for a professional, high quality installation, however at the same time we endeavour to be as efficient as possible to meet your business needs.
From ordering of product to its dispatch, we aim to achieve a maximum 48 hour turnaround.
Wider products & special folds may require longer.
Our expertise is our main product and service!
All our staff are comprehensively trained in each facet of the business they are in.
To ensure a high standard of expertise, all our staff are employed – we have no subcontractors.
We ensure our product is of a superior standard & we expect the same from our staff & administration in each division of our business.
The Leaf Man prides itself not only on its Superior Products but also on its Superior Services.
Customisation – We will customise your product to suit your needs. Our gutter guards are custom made, custom cut, custom powder-coated and custom fitted.
Quoting – Should you require a quotation or an estimation for your property, our highly trained sales staff will personally go onsite and provide the costings.
Business Support – Or you may wish to see how our product and services can be utilised within your own business. Our competent Business Estimators can arrange a personalised service based on your requirements.
Customer Care – Our Internal Sales team can help with any technical enquiry you may have and our Administrative and Management team will ensure that your whole process goes smoothly.
You can rest assured that you will deal with only fully trained and accomplished and WH&S certified persons in every facet of our business. 
All our installers carry the required licenses for working on heights and have been accepted under the NPCS (The National Police Checking Service) The Leaf Man Australia will present on request the following:
Certificate of currency for Public Liabilty of $20,000,000 public liability.
Certificate of Currency under Workcover Australia for the employers liability under the workers compensation act of 1987.
All SWMS as required.
All Licenses as required for working on roofs.
All NPCS certificates.
Our gutter guard is compliant in every area including the following:
It is BCA compliant.
It carries a 0 (zero) -flammability rating granted by the CSIRO in compliance to AS1530.2-1993.
It complies to the requirements of the BAL rating.
And it complies to the guidelines of the NSW Rural Fire Service.